Ruth Watson in Orford Crown and Castle hygiene dispute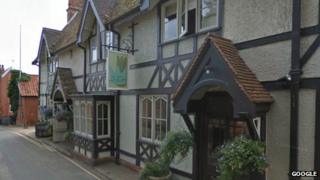 A television hospitality expert has said she will seek a judicial review after inspectors raised concerns about hygiene at her own hotel in Suffolk.
Ruth Watson, former star of The Hotel Inspector on Channel 5, hit out after The Crown and Castle in Orford was given a one-out-of-five food hygiene rating.
The council rating means "major improvement is necessary".
Mrs Watson said she "strongly disagreed" with the findings.
'Boundary blurred'
"As someone who has worked in the hospitality industry for nearly 30 years, I fully accept there is always room for minor improvements," she said.
"However part of the problem appears to be that the boundary between taking food safety very seriously, as we always do, and being allowed to cook top-quality local ingredients in the way our customers want, is being irrevocably blurred.
"We have made every effort to resolve our dispute with the Food Safety Team as swiftly and amicably as possible, but remain unable to agree with their approach, and so we have commenced the first stage of a judicial review action to allow a court to determine the fairness of the inspection and the rating."
The hotel was previously given the maximum score and an independent expert has since carried out his own assessment disputing the rating, she added.
Suffolk Coastal District Council said its decision was based "firmly on the national guidelines set by the Food Standards Agency".
"We believe that our decision was a correct one and will defend it strongly if it is legally challenged," a spokesman added.
Mrs Watson presented three series of The Hotel Inspector, giving tips and advice to struggling hoteliers in a bid to turn their fortunes around.