Cliff landslide blocks sea wall pathway at Corton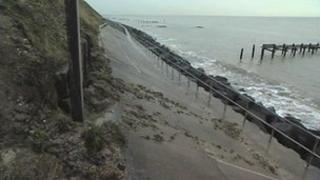 Part of a cliff along the Suffolk coast has collapsed, blocking a sea wall pathway at Corton.
A section of the promenade near Tibbenham's Score has been closed while Waveney District Council assesses the damage and risk of a further landslide.
Coastal manager Bill Parker said it was probably due to recent rainfall.
"We have to manage what nature throws at us and this heavy rain has caused us a particular problem with these complex cliffs," he said.
Mr Parker said the stretch of the seawall prom would be reopened "as soon as possible".
"We haven't got the full details of how serious it is but we were sufficiently concerned that we don't want to put any members of the public at risk," he said.
"The coastline has been eroding for thousands of years - it's constantly under pressure.
"The issue at Corton is the cliff line behind the sea defences is also very fragile, so you're caught in a kind of pincer."