Ipswich Hospital to consider new cancer building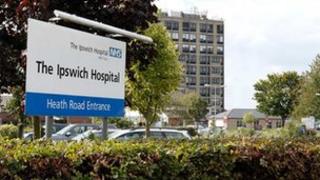 A new cancer day centre could be built at Ipswich Hospital as the trust says its existing building is too small.
The NHS hospital wants to "expand and enhance" the service for patients receiving chemotherapy and haematology treatments.
Some patients had received treatment in the corridors of the ward, but the hospital said this was often at their request and no longer happened.
A new two-storey unit is one of three options to be discussed on 31 January.
A spokesperson for the hospital said: "Our existing day centre in the Woolverstone Wing is no longer big enough for our growing population."
The new centre would be built next to the Woolverstone Wing, the hospital's cancer centre, on the Heath Road site.
The other shortlisted options to go before the hospital board would both see a new pharmacy preparation area built, where chemotherapy would be produced, and improvements or an extension made to the existing day unit.
The spokesperson said: "A key consideration for the board will be the safety of patients and improving their experience, as well as making sure the proposals are affordable."