Dog gets new 'bionic' shoulder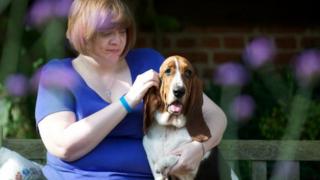 A basset hound from Suffolk has had "bionic" surgery on her shoulder as her owners try to raise more money for further surgery on her club foot.
Bumble Bee is a companion to Heather-Jane Thomson, 34, of Grundisburgh, who has dementia and learning difficulties.
Her family is trying to raise £10,000 for both operations, which involve pioneering methods to rebuild bones.
They are being carried out by Noel Fitzpatrick who featured in a BBC documentary called The Bionic Vet.
Bumble Bee was born in 2011 with a foot defect which meant she placed extra strain on her shoulder.
If the shoulder and club foot are not both corrected, then she will eventually have to be put down.
Bio-engineering
Ms Thomson's mother Vicky Thomson-Carr said: "When Heather linked up with this little pup they just became inseparable - it helps her stay calm.
"The problem is, that while some dogs can have one leg cut off and manage with three, basset hounds are very heavy at the front on small legs, so she wouldn't be able to manage."
Bumble Bee's shoulder surgery, in October, involved creating a new joint designed by a bio-engineer.
She has been kept at the vets in Surrey to be given complementary drugs and to monitor the success of the operation.
Ms Thomson said: "I love Bumble and she's one of my best friends.
"I'm OK with the idea that she might have to be put down, but I want her back."
The family said it still needs to raise £5,000 for the rest of the surgery.
Ms Thomson-Carr said: "It's difficult times and I always say if it's a choice then human charities should come first, but there are a number of people out there who want to give to animals and help."