Cupola House in Bury St Edmunds set to reopen in spring 2014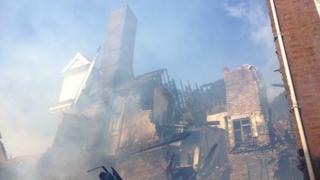 A 17th Century building which was destroyed by fire could be rebuilt and opened by spring 2014.
About 120 diners were evacuated from the Strada restaurant at the five-storey Cupola House, Bury St Edmunds, when fire broke out in June.
David Clarke, project manager, said plans for the rebuild would be submitted early in the new year.
"The target is to commence on the site in late spring with view to completion some time in May/June 2014," he said.
Mr Clarke, who works for Richard Jackson Ltd, said debris had been cleared, the building had been made safe and surveys had been completed.
"We're now in the stage of planning the rebuild," he said.
Mr Clarke said the plans had been carried out with an "awful lot of pre-application discussions" with St Edmundsbury Borough Council and English Heritage.
Planners had asked for people to submit photos of the interior of Cupola House, which was built in 1693, to help them closely match the design for the rebuild.
"To the eye it won't appear very different at all," Mr Clarke said.