Felixstowe Spa Pavilion pantomime is last show before closure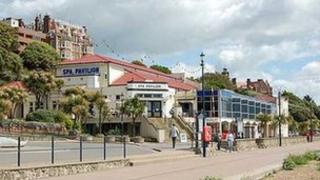 A 100-year old Suffolk theatre is staging its last production.
Aladdin is running at the Spa Pavilion in Felixstowe until 6 January when the building will close.
Suffolk Coastal District Council is ending its subsidy for the venue, although there are still hopes a buyer could come in to save the theatre.
Geoff Holdcroft, portfolio holder for leisure, said: "I'm very disappointed, but I'm hoping other options will bear fruit in the new year."
'Extremely sad'
The council, which owns the building, voted to end its £250,000 annual funding earlier this year, meaning the venue will close when the current contract with a management company ends.
Julie Howes, theatre manager, said: "We're extremely sad that this is going to be potentially the last ever show.
"All 43 staff are being made redundant and there isn't any sign of anyone coming in to save the theatre.
"It's all in the hands of the council."
'Out with a bang'
Mr Holdcroft said he was "optimistic" a use could be found for the Spa.
"The building will go dark on 6 January, but we have been talking to several parties and are looking forward to hearing more detailed expressions of interest next year," he said.
"Two of the interested parties' ideas contained a theatre element alongside other interesting options."
The final show is the 47th pantomime staged at the venue by the Dennis Lowe Theatre Company - named after its founder who died in 1999.
Suzie Lowe, his daughter and current director of the company, said: "My Dad would have been absolutely gutted about the whole situation, but we're going to put on our annual show to our usual high standard so that the venue goes out with a bang before the doors close.
"I'm confident the council can find someone new to run the building and that it will still be available for theatre as part of an entertainment complex of some kind."