Ipswich psychiatric unit fire left patient 'seconds away' from dying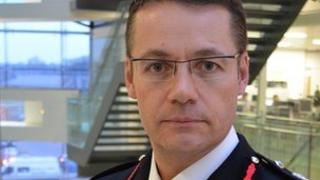 A fire service report says safety failures at a psychiatric unit in Suffolk left a patient "seconds away" from dying in a smoke-filled room.
A patient was found unconscious at the Woodlands Unit at Ipswich Hospital, previously run by Suffolk Mental Health NHS Trust, in October 2011.
The report said alarms were silenced or re-set eight times, leading to a five-minute delay before staff investigated.
The new trust that runs it said lessons had been learned from the fire.
An investigation concluded the patient had set their bedding alight with a cigarette lighter and stayed in their room as the fire developed.
The patient was found in a smoke-filled room on Poppy Ward and was resuscitated and treated.
'Managerial failings'
The fire service said there had been a failure to provide adequate fire safety training or safety drills for staff and that a previously issued "notice of deficiencies" had not been fully addressed.
Suffolk's Chief Fire Officer Andy Fry said an investigation into the five-minute delay exposed "serious systematic and managerial failings" and that it was "extremely fortunate" the patient did not lose their life.
"Because of the five-minute delay we moved from a scenario where the patient was in a room with a very small fire to one where there was a substantial fire and staff could not even see the patient," he said.
"The circumstances surrounding the fire were very serious indeed and it was on that basis that we felt it was essential to publish the report to ensure lessons are learnt."
The report said firefighters had to force their way through a fire exit which had been manually locked.
'Actions identified'
Maggie Wheeler, chair of the Norfolk and Suffolk NHS Foundation Trust, which now runs the unit, said: "We are taking the Suffolk Fire Service's report into their investigation very seriously.
"Part of the former trust's shortcomings was a lack of organisational responsibility and there has been a change of management and a change of culture.
"We have addressed every single one of the actions identified."
Mr Fry said: "It was over a year ago and significant progress has been made since then."
The NHS Trust at the time of the fire has since been merged to form the Norfolk and Suffolk NHS Foundation Trust.
Suffolk County Council, which runs the fire service, said the law surrounding the NHS merger process meant no action could taken against the new trust.