Felixstowe European Gateway ferry disaster memorial plan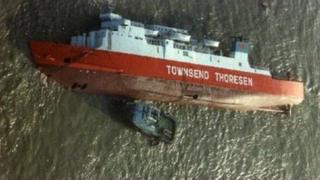 A memorial is being planned for those who died in a ferry disaster off the coast of Felixstowe 30 years ago.
Six people were killed when the European Gateway, which was leaving Felixstowe, capsized after colliding with a cargo ferry.
The ship was left lying on its side on a sandbank and was refloated in 1983.
Mike Deacon, the mayor of Felixstowe, said: "I will investigate what can be done to mark and provide a memorial to that event."
The European Gateway, operated by Townsend Toresen, was about a mile out of port in the dark on 19 December 1982.
It collided at about 22:50 GMT with the Speedlink Vanguard, which was a British Rail Sealink ferry heading in to port.
'Terrible sight'
The European Gateway had about 70 crew and passengers on board.
Helicopters and lifeboats from Harwich and Walton-on-the-Naze were involved in the search for the missing people.
"I can remember the wreck of the vessel and it was a terrible sight and I'm surprised there is no memorial," said Mr Deacon.
"I don't know how much it would cost or where it would go, but all those things need looking at and that's what I suggest the town council undertakes to do."
Terry Hunt, the current editor of East Anglian Daily Times, was a reporter working in Felixstowe in 1982.
"The obvious thing to do is have a memorial on the seafront looking out to where the ferry came to grief, with an inscription saying what happened and the names of the victims," he said.