Hadleigh fuel depot fire: Man arrested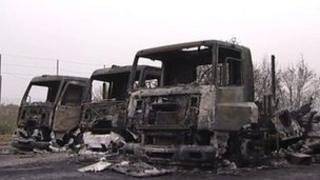 A man has been arrested for allegedly setting fire to three tankers at a Suffolk fuel depot, causing £500,000 of damage.
Crews were alerted to the blaze at Ukay Fuels in Hadleigh on 16 November after eyewitnesses reported explosions on the Lady Lane industrial estate.
Suffolk Police said a 20-year-old man from the town had been arrested on suspicion of arson and bailed.
The force said 200 people had so far helped with their investigation.
About 35,750 litres of fuel were destroyed in the fire, with flames rising up to 50ft (15m) in the air.
Residents in the area were warned to stay indoors and a nearby main road closed to traffic while the fire was put under control.