Suffolk Bronze Age axe treasure awaits British Museum valuation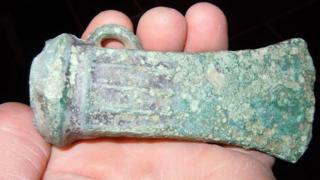 The man who discovered a Bronze Age axe filled with five gold rings in Suffolk is hoping they will net him a four-figure sum.
Steven Walker found the axe in a field near Lowestoft last year and the coroner declared them to be treasure.
The British Museum will now value them and the finder will get a reward.
Suffolk's archaeology service said the copper axe dates from 1000-800 BC, but the reason for it containing rings remains a mystery.
Mr Walker, 49, said he had once found a mammoth's tusk, and had been using metal detectors for 15 years.
He had been exploring the field with the landowner's permission, and was about to give up when his equipment gave a significant beep.
Pagan ceremony?
"I put my hand down into the hole I'd dug and found the axe and couldn't believe it when there was a glint of gold in its socket which turned out to be rings.
"If it has traces of charcoal in the socket, it could prove to have been part of a pagan cremation ceremony and that would be the icing on the cake."
The axe head is about 4 in (10cm) long and the gold lock-rings about one inch (2.5cm) in diameter.
The find, which is being called the 'Near North Cove hoard', is in the possession of the British Museum.
Andrew Brown, finds recording officer for the Suffolk Archaeological Service, said it was the first discovery of its kind in the county, but objects had been found in axe heads in other parts of Britain.
"We don't know why the rings were inside the axe head - we have no records of Bronze Age burials so it could just be that the axe was a handy place to store the rings.
'Fair price'
"It's quite possible that it was part of some kind of ritual practise, but without knowing the thinking behind it or having any supporting documents, we can't work out why things were being done.
"We don't fully understand how society worked, but gold appears to be quite a rare commodity, so you do start to think it does have a certain amount of status behind it.
"There's always the possibility that they were made locally because bronze axe moulds have been found in Britain from this time, but we don't know.
"Hopefully by recording things like this from the Suffolk landscape, we can start to understand better what was going on."
Mr Walker, who is a painter and decorator, said he was now waiting for the British Museum's treasure valuation committee to tell him what he will receive.
"As far as the Treasure Act is concerned, it should pay what the hammer price would be at auction, but Bronze Age gold rarely goes onto the open market.
"I've no idea what I'll get at the moment, it wouldn't be five figures, probably four figures.
"As long as I get a fair price, I'm happy with that - the true value is in the actual finding of the items."