Coastal erosion: Southwold houses wait for Pathfinder land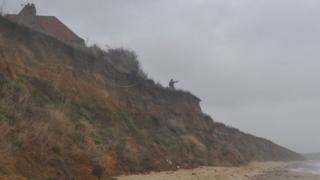 "You look out and don't really accept that your house will fall into the sea," said Laura Martin.
Her semi-detached house at Easton Bavents, just to the north of Southwold in Suffolk, is on the edge of the cliff and she is waiting to see if a scheme proposed by Waveney District Council can help her relocate.
The council has £1.5m to help nine home and plot owners.
It is one of 15 local authorities taking part in the government's Pathfinder pilot schemes to develop policies to help communities at risk of coastal erosion.
The council is proposing to buy land elsewhere at no cost to the householders, but they would then have to pay to build their own homes.
Easton Bavents was once England's most easterly point and the cliff was about a mile further out to sea.
Ms Martin said she bought her house for £50,000 in 2005, but it is now worthless.
It is now about 15 yards (14m) from the edge, but she said she could not afford to build a new home on her civil service pension.
"I'm hoping I might be able to put a caravan at the end of my existing garden and wait, but you just don't know how long the cliff will survive as erosion depends on a combination of tides and weather."
A proposal to buy land at Rissemere Lane East in Reydon, a mile further inland from Southwold, met with some opposition from some local people who claim it is an area used for walking.
A Pathfinder workshop took place in November, but there have been no firm proposals to buy the land or to provide an answer to people who cannot afford to build a home on a free plot.
Bill Parker, coastal manager for Waveney and Suffolk Coastal district councils, said: "We're trying to create a co-operative approach between threatened cliff top householders, people in Reydon and the Pathfinder team.
"The Reydon community said it had other ideas and although we're not taking Rissemere Lane East off the table, we're looking at other options.
"But we're a long way from buying a site or getting into questions of whether Easton Bavents householders can afford to build a new home."
Ms Martin said: "We're waiting to see what people in Reydon are prepared to accept and then we'll see if this scheme can move forward."