Suffolk police officer loses PAVA spray in Stowmarket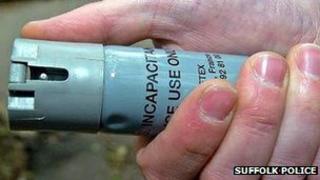 Suffolk police are searching for a gas canister used to incapacitate suspects after it was lost by an officer during an arrest.
The PAVA spray was lost in Stowmarket at 04:40 GMT on Sunday as police arrested a man in Church Lane.
Despite extensive searches in the area, the spray, which is prohibited under the Firearms Act, has not been found.
Ch Insp Kim Warner said: "This is an extremely rare incident."
PAVA spray affects the eyes, causing forced closure and pain which has been compared to the effects of chilli.
Criminal offence
"Items such as this are handled with the utmost care, and officers receive extensive training in how to use them," Mr Warner said.
"They should not be used by members of the public and I would urge anyone in possession of this item to take it to their nearest police station at the earliest opportunity."
Police warned the canister could cause "harm when used" and said keeping it could be "considered a criminal offence".
The small grey canister is about 4in (10cm) long, with a flip top button. It sits within a black holder with a black string.