Suffolk private bank £5 note makes £1,320 for millionaire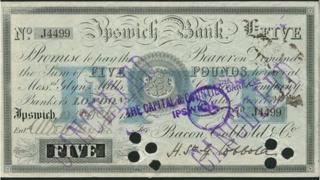 The auction of 12 notes issued by private banks in Suffolk in the 19th and early 20th centuries raised £6,132 for a millionaire collector.
The Ipswich section of the David Kirch collection was offered and the top seller was a 1904 Ipswich Bank £5 note.
Bank note specialist Andrew Pattison from auction house Spink said: "Sales were within or far above estimate."
Jersey-based property developer Mr Kirch is said to be the 751st richest man in the world.
"The 1904 Ipswich Bank £5 with a signature of one of the Cobbold brewing family sold at £1,320 but was only estimated at £300-£400," Mr Pattison said.
"The price of this particular note was so high because it was issued in the very last months of the bank's existence before it went bust.
"Collectors of banknotes and local history were clearly eager to own these historic items, particularly as they come from a time which could be seen as the heyday of trade and commerce in East Anglia, and in which Ipswich played a vital part."