Ash dieback threat revealed by Suffolk Hedgerows Survey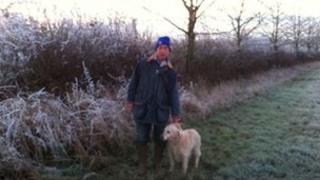 A survey of Suffolk's hedgerows shows nearly half contain ash trees, which could be affected if ash dieback disease spreads.
The Suffolk Hedgerows Survey has collected data on 38,000 hedges over the past 12 years.
It found about 40% of hedgerows contain ash.
Guy Ackers, who led the survey project, said: "Ash dieback is a very serious threat indeed, but it won't spread in the winter."
The survey was a volunteer-run project and the data was collected by 2,400 people in 317 parishes.
The amount of ash in hedges could be as much at 66% in undulating farmland.
'Lot of gaps'
"I would say 40% of hedgerows in Suffolk could be affected by the disease," said Mr Ackers.
"It's going to leave a hell of a lot of gaps in hedgerows and it would affect wildlife, such as insects, which use them as corridors to move around.
"We have a period of grace of about four or five months until next spring for the authorities to work out whether this is doom for all ash trees, whether there can be some natural resistance or whether felling them is the best action for landowners."
The Suffolk Hedgerows Survey said it hoped planners would be able to use the data to make sure developers replaced any hedgerows that were removed for building projects.
The organisers said parishes would be able to use the data in years to come to compare the amount of hedgerow that exists.
David Barker, chairman of Suffolk-Creating the Greenest County campaign, said: "We have this aspiration to make Suffolk the greenest county and it's a great thing to have done this assessment.
"The countryside is an ever-changing thing and we have this challenge and we've got to adapt and meet it.
"We've got to try and encourage agricultural policymakers to think about hedgerows and I hope the survey will do that."