Suffolk Police loss from land sale 'unacceptable'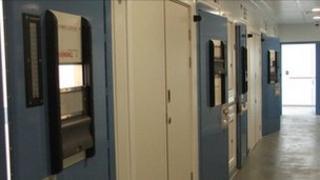 Suffolk Police has been criticised for losing almost £400,000 by selling land it bought in 2006 but did not use.
The force planned to build an investigation centre at Ransomes Business Park, Ipswich, after paying almost £2m for the land.
It later opted to build the centre at its Martlesham headquarters and has now accepted to sell the plot at Ransomes to Suffolk County Council for £1.6m.
Police and crime commissioner Tim Passmore said it was "not acceptable".
Mr Passmore, who is now responsible for controlling budgets and setting police priorities, said the sale had been agreed before he came into office last month.
"It's an awful lot of money when budgets are very tight - we simply can't put ourselves in the position for this to happen," he said.
'Various options'
The force is looking to make £17.7m of savings over four years, from its annual budget of £124.6m.
Assistant chief officer Phillip Clayton said the Martlesham site was always the preferred option but there had been doubts over whether it was big enough, and whether planning permission would be granted.
But due to delays in the project, which saw the six police investigation centres open across Suffolk and Norfolk last year, plans for the Martlesham site were further investigated and in April 2011 the land at Ransomes was put on the market for £1.7m.
"Various options were looked at for the Ransomes Business Park land to see whether it would be preferable to sell it or use it for alternative purposes, where possible maximising revenue for the constabulary," Mr Clayton said.
He said one other offer was received, for "considerably less than the asking price", before the council's bid was accepted.
Suffolk County Council said it planned to use the land for a waste transfer facility.