Critically ill snowboarder Emily Watts' mother visits rescuers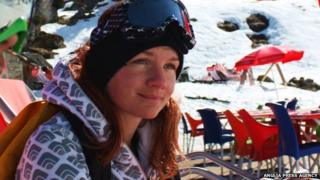 The mother of a Suffolk woman who is critically ill after a snowboarding accident in France has travelled to meet her daughter's rescuers.
Emily Watts, 26, from Lavenham, crashed into a snowdrift and suffered a heart attack near Chamonix on Saturday.
Her mother, Nicky McAllister, said she would speak with mountain rescue workers to "get a better picture of exactly what happened".
Ms Watts, known as Mimi, remains on a life support machine.
Her mother said she was an experienced snowboarder.
'Consumed with grief'
"We have seen some reports that Emily was off piste and on her own - that is not true and she would never do that," she said.
"She was on piste and at the back of a group of friends.
"They got to the bottom and realised she wasn't with them but, because she is such a competent snowboarder, it didn't occur to them that anything might have happened."
Ms Watts, a design student, was reportedly taken to hospital in nearby Annecy following the accident in the Grand Montets skiing area and then transferred to a specialist unit.
It is believed no-one else was involved in the accident.
Ms Watts' aunt, Shona Pollock, had said the family were "consumed with grief" as it was clear Ms Watts was unlikely to recover.