Ipswich ship fire: Accum ready to leave with minimal damage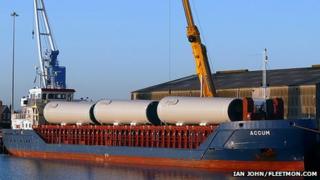 The agent for a ship containing 100 vehicles which caught fire in Ipswich on Monday said damage has been limited and it is about to set sail again.
Wooden crates on the lower deck of the Accum were alight, but the ship's carbon dioxide extinguishing system helped put the fire out.
The ship, which is 94 yards (86m) long, is expected to leave Ipswich by Thursday bound for Cyprus.
The agent said the vehicles on the upper decks only had smoke damage.
Seven fire crews spent about three hours dealing with the incident on Monday afternoon.
'Soot damage'
The boat has been in port waiting for its extinguishing system to be replenished before it can leave.
Robert Miller, the ship's UK agent from Harvest Agency Services in Essex, said: "The carbon dioxide system worked well to starve the fire of oxygen and it seems we got away with it.
"The vehicles seem OK, but the wooden crates containing machinery on the deck below have had some soot damage."
Harvest said the ship, which is owned by a German company, will take 16 days to get to Cyprus and damage to the crates could not be assessed until the vehicles, which are a mix of used cars, lorries and tractors, have been unloaded.
No-one was injured in the fire.