Ultraman Alan Macpherson breaks 30-hour barrier in Hawaii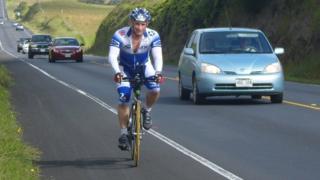 A Suffolk triathlete has become the first Briton to break the 30-hour barrier at the Ultraman world championship in Hawaii.
Alan Macpherson, 39, from Bury St Edmunds, but originally from Inverness, had to swim, cycle and run a total of 319 miles (519km) over three days.
His time of 28 hours, 53 minutes and 54 seconds meant he came 18th.
The winner was Alexandre Ribiero of Brazil who finished in a total time of 22 hours, 51 minutes and 12 seconds.
The race involved a 10km sea swim and a 145km (90-mile) cycle ride on day one.
The second day featured a 274km (170-mile) bike ride and the event closed with a double-marathon 84.3km (52.4 miles) on day three, when the temperature reached 37C.
'Good incentive'
Ultraman is the longest form of triathlon - twice the length of an Ironman event and considerably more than the Olympic distances of a 1,500m (1,640yd) swim, 40km (25-mile) cycle ride and 10km (6-mile) run.
Macpherson, the only British athlete in the event, said: "To be the first ever Scotsman to cross the finish line was always going to be a good incentive.
"The swim is tough because you've got lots of currents to deal with, and for two thirds of it we were swimming against quite a strong tide, which caused several people to drop out.
"Apart from my worst blisters ever, I have felt great since and maybe my body is getting used to these events."
Macpherson was invited to the Hawaii world championship after completing the UK Ultraman at Betws-y-Coed, north Wales, earlier this year in a time of 26 hours, 47 minutes and 3 seconds.
Next challenge
He said the Hawaii Ultraman is regarded as tougher, because it involves swimming in the sea rather than a lake and it takes place in higher temperatures and more mountainous terrain.
Helen Gorman, spokesperson for British Triathlon, said: "Alan's achievement is incredible and it shows what you can do if you put your mind to it - at any level of triathlon."
Macpherson, who has Crohn's disease, hopes to complete the Ultraman Canada in 2013.
"To be the first British athlete to do all three is going to be a fantastic challenge, and I would be only one of seven people in the world to have done all three, and it's a club I want to be part of."