Luke Durbin murder inquiry: The Missing play praised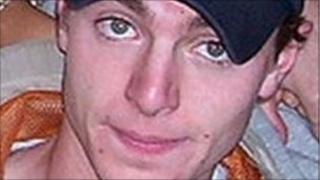 A play about a missing man thought to have been murdered should be put on in his home town and may help the police inquiry, his mother has said.
Luke Durbin was 19 when he was last seen after a night out in Ipswich in 2006.
The play, called The Missing, had its premiere in London in November and the company behind it is seeking funding to take it on tour.
Nicki Durbin said performing it in the Suffolk town may help the inquiry.
Mr Durbin was reported missing on 13 May 2006 after he failed to return to his home in Hollesley near Woodbridge.
Suffolk Police is treating the case as a murder inquiry, but no body has been found and no charges have been brought.
'Emotionally overwhelming'
Ms Durbin went to see the play when it was staged for three nights at the 40-seat Etcetera Theatre, above a pub in Camden, north London.
She said it was "powerful and emotionally overwhelming".
"I want to keep the profile of Luke's disappearance high and I'd welcome the play being staged in Suffolk," she said.
"We believe someone locally knows what happened to Luke and I would hope this play finally prompts them to go to the police."
George Evans, from the LotToDo theatre company, played Luke Durbin in The Missing.
"We are in the process of trying to get funding to take it on tour," he said.
"To perform it in Ipswich would be fantastic as I think it would raise the profile of the issue of missing people in a place that has been directly affected by it.
"Our aim was to raise general awareness through focusing on missing teenage boys or young men whose cases don't usually get a lot of national attention."
Ms Durbin said watching Mr Evans "was like reliving the last time I saw my son".
"George, who had never met or studied video recordings of him, astoundingly managed to capture an essence of Luke," she said.
"I was slightly anxious as to how they could construct the play, but my anxieties were not necessary."
Two men, who were arrested in connection with the murder inquiry earlier this year, have been released on police bail .