Tesco proposal for Lowestoft Tramway Hotel pub questioned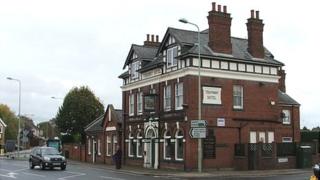 Tesco has been asked to submit a formal planning application to turn a Lowestoft pub into a convenience store, when previously it thought it did not need to.
The firm wants to convert the Tramway Hotel at Pakefield in to a shop.
Waveney District Council said the mix of hotel and pub meant change-of-use permission could be needed.
Campaigners have submitted a 2,500-signature petition opposing Tesco's plans to turn it into a shop.
The council said its officers had completed preliminary investigations into the 100-year old building.
They concluded that if the building was purely a pub, Tesco would not need to apply for planning permission, but as the first floor was a hotel then it would.
Seeking clarification
Bob Blizzard, the former Labour MP for Waveney who has been backing local opponents, said: "I think the council needs to insist on a planning application, rather than just invite one.
"It's quite clear people in Pakefield don't want a Tesco and I'm pleased that at least we've got some movement.
Tesco said it hoped to have the store open by next summer and it would create 20 full and part-time jobs.
A Tesco spokesperson said: 'We have been working closely with Waveney District Council and are therefore surprised by their interpretation of the site as being 'premises with mixed use'.
"To the best of our knowledge, the building has been operated almost exclusively as a pub in recent years and has few of the requirements of a functioning hotel.
"We will now be seeking clarification on this issue and will continue to work with the council as we decide how best to move forward."