Sizewell C nuclear station: UK construction investment needed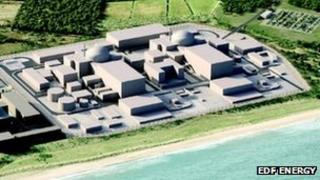 A report says British companies need to invest now to help them win contracts for the construction of Sizewell C nuclear power station in Suffolk.
EDF Energy hopes work on the site could begin in 2018 if planning is approved.
The Nuclear Industry Association (NIA) said the UK does not currently have the capacity to build parts such as reactor pressure vessels.
Its report said foreign companies would win other contracts unless UK firms invested now.
The NIA's Capability of the UK Nuclear New Build Supply Chain study said that with investment, British firms are capable of supplying 90% of the components for new nuclear plants, but the largest metal forgings and some specialist reactor parts would need to be imported.
Lord Hutton, NIA chairman, said: "The report is a recognition of the reality that we're not able to build every component part of these new reactors, but there is a massive opportunity for British and local companies to get involved in this programme and create long-term, secure, well-paid jobs.
'Huge opportunities'
"We need to prepare, invest and lay the foundations and that's really about getting the people with the right skills and knowledge in place."
Tom McGarry, EDF spokesman, said: "There are huge opportunities for British companies - the report shows the capability is there and progress is being made.
"We're doing a lot of work with Suffolk and Norfolk chambers of commerce to make sure that local companies have the best opportunity possible to get involved in Sizewell C.
"During the construction of Sizewell B between 1987 and 1995, nearly 700 East Anglian companies were involved and I think we'll get welcome news for local companies again."
EDF said building Sizewell C's two reactors would take about nine years and create 30,000 jobs with 5,000 people working on the construction site at its peak.
EDF said it has not provided a public estimate for the overall cost of Sizewell C, but Suffolk County Council has said it was in the region of £2bn.