Suffolk PCC: Claim new 'independent' watchdog needed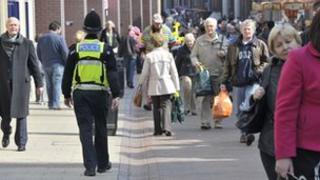 A neighbourhood watch organiser said he is starting a "genuinely independent watchdog" to scrutinise Suffolk's first Police and Crime Commissioner.
A statutory police and crime panel has already been set-up, consisting mainly of councillors, to check on the work of the PCC.
Jim Henson is starting another crime forum, which he claims will be independent of party politics.
PCC Tim Passmore said he saw the body as a "critical friend".
The police and crime panel (PCP) is made up of eleven county and district councillors (seven Conservative, two Labour, one Liberal Democrat and one independent) and two other members who are not councillors.
Mr Henson, 68, the chair of Suffolk Neighbourhood Watch, said: "They will vote along party lines, and we need another watchdog that is genuinely independent.
'Make voices heard'
"People may not have voted in the PCC election, but once it gets going they will get a taste for it and need a body like ours to represent them.
"I'm elected annually as chair of Suffolk Neighbourhood Watch, so I'm non-political and ready to make people's voices heard."
The new, non-statutory, body is provisionally called the police, crime and response development forum and would be made up of representatives from business organisations, charities, ethnic minority and young people's groups and other "watch" groups such as Pubwatch.
Mr Passmore said he was meeting with the new forum which he saw as a "critical friend" rather than a "watchdog".
'Supporting and challenging'
"A forum involving neighbourhood watch could help with crime prevention and information gathering," he said.
"The policing draft plan does need to be developed by as wide a group as possible.
"It would be a foolish commissioner who didn't take any notice of a body like this and I think they're trying to be helpful."
Councillor Patricia O'Brien, chair of the PCP, said: "We are there to be a check and hold the PCC [to account] - but in a supporting and challenging role.
"The members were drawn proportionately by party from the local councils, but we are free to voice our views as a scrutiny committee to do the best for Suffolk."