Exning phone box hidden under ivy re-emerges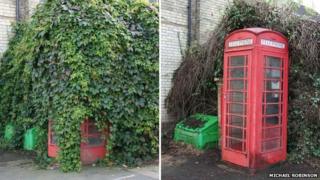 A Suffolk village's working phone box has re-emerged after being almost completely hidden by ivy.
Foliage had covered the kiosk in Exning near Newmarket since the summer, but an unknown villager has cut the ivy back and cleaned the phone.
Michael Robinson, who lives near it, said: "I think most people had forgotten Exning had a phone box."
BT said only three calls had been made from it over the past year - the last one in June.
The kiosk is at the junction of four roads - Chapel Street, Laceys Lane, Ducks Lane and Frogmore.
Mr Robinson said: "It's been overgrown for most of the summer, but I didn't think it was an eyesore because all that greenery was quite attractive."
No complaints
Ken Clutterbuck, landlord of The Wheatsheaf pub on Chapel Street, said: "To be honest I hadn't noticed it was hidden and I post my letters in the post box next to it.
"I've never used it. Everyone's got a mobile these days so nobody comes into the pub to ask for a payphone."
BT, which owns the phone box, said it was not responsible for cutting the ivy back.
A BT spokesman said: "We haven't had any complaints from the public about this phone box, but we are sending an engineer to check the kiosk."