Suffolk hospital prisoner escape: Garry Cowan guilty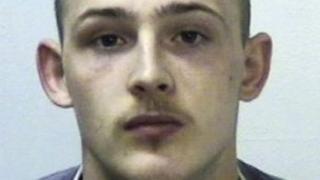 A man has been found guilty of holding two prison officers at gunpoint to help a former cellmate escape from custody outside a Suffolk hospital.
Garry Cowan, 45, sprung Andrew Farndon with the aid of a replica handgun outside West Suffolk Hospital in Bury St Edmunds in January.
Highpoint prisoner Farndon was being taken to hospital to be treated for a knife wound.
A jury found Cowan guilty following a trial at Woolwich Crown Court.
He had denied possession of a replica firearm with intent to cause fear of violence, and assisting an offender to escape.
The jury took less than three hours to reach a unanimous guilty verdict on both counts.
'Let me go'
Farndon was serving an indeterminate sentence for public protection after fracturing a victim's skull in a hammer attack, and his escape sparked a nationwide manhunt.
Cowan, his former jail mate, had been released 15 days earlier after serving a nine-year sentence for robbery and has 41 previous convictions for 180 offences.
During the trial, prison officers Kim Lockwood and Chris Matson told the jury they feared they were about to be killed when the gunman threatened to shoot them moments after arriving at the hospital.
Giving evidence, Miss Lockwood said she was told she had 10 seconds to remove the handcuffs from the prisoner, while Farndon kept repeating: "I'm sorry miss, let me go."
The pair fled by foot before escaping in a getaway car, the trial heard.
Cowan, originally from St Andrews in Scotland, was arrested three days later at the home of another former jail mate, Alan Hornall, in New Cumnock, East Ayrshire.
'Hitch-hiking' claim
Mobile phone data placed Cowan outside the hospital, the prosecution said, and his DNA was found on a jumper sleeve used as a balaclava and on the inside of a case which allegedly contained the gun.
DNA from Farndon and Cowan was found on the seats of a Ford Escort used as a getaway car and on the neck of a milk bottle found in the vehicle.
He was also picked out in an identification parade by Miss Lockwood.
Cowan claimed he was hitch-hiking through England at the time Farndon escaped.
Judge Nicholas Hilliard told the defendant he faces a "substantial" prison sentence.
Farndon, who has pleaded guilty to a charge of escape, is also facing court proceedings in Scotland for three alleged firearm offences.
The pair will be sentenced at Woolwich Crown Court in January.