West Suffolk Hospital machine paid for by swine flu family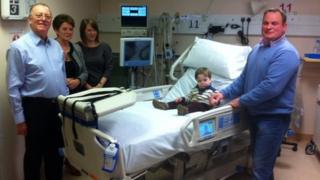 The family of a woman who died after contracting swine flu has raised the money to buy a special hospital bed in her memory.
Sarah Applin, 32, died in 2011 at the West Suffolk Hospital in Bury St Edmunds less than two weeks after giving birth.
She developed complications with pneumonia after swine flu treatment.
Her family raised £20,000 to buy an electric profiling bed for the hospital's critical care unit.
Ms Applin was diagnosed swine flu and, because she needed to be treated with a range of drugs, her son William was delivered by Caesarean section in December 2010 after a six-month pregnancy.
However, Ms Applin died on 4 January 2011.
'Amazing generosity'
Her parents Barry and Jane Waterman and her husband Richard spearheaded a fundraising campaign.
Mr Waterman said: "The staggering part was the amazing generosity of so many people who knew Sarah.
"We wanted to make a positive contribution to the ward and and this bed should be a significant piece of equipment."
The hospital said it will help provide therapy to patients with critical conditions and it is particularly useful for lung conditions.
Dr Jon Cardy, hospital consultant, said: "As well as offering flexibility to move patients into a variety of positions for comfort, these beds are invaluable for providing rotational, percussion and vibration therapies which can make as valuable a contribution to a patient's recovery as antibiotics and other conventional treatments.
"We are extremely grateful to Sarah's family and everyone who has been involved in raising this money."