Garry Cowan was 'perfect accomplice in prison escape'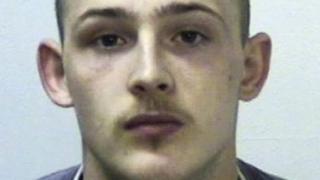 A man accused of helping an inmate escape from prison in an armed ambush was the perfect accomplice, a court heard.
Garry Cowan, 45, denies springing Highpoint Prison inmate Andrew Farndon from outside West Suffolk Hospital in Bury St Edmunds on 25 January.
Prosecutor Gregory Perrins told Woolwich Crown Court that there was "compelling evidence" against Mr Cowan.
Mr Cowan, from St Andrews, had been released from jail 15 days earlier.
He had been serving a nine-year sentence for robbery at Highpoint with Mr Farndon, who was in jail for fracturing a man's skull in a hammer attack.
'Beyond reasonable doubt'
Mr Perrins said Mr Farndon had needed an accomplice whom he liked and trusted, and would be able to plan and execute an escape.
"The prosecution say that Mr Cowan fits that profile perfectly, and the prosecution say that you can be sure - all 12 of you, beyond reasonable doubt - that Mr Cowan was the gunman," he said.
He said "compelling evidence" linked Mr Cowan to the planning and execution of the escape and getaway.
Mr Perrins said mobile phone data placed Mr Cowan outside West Suffolk Hospital on the day of the hold-up, and his DNA was found on a balaclava and on the inside of a case which the prosecution say contained the gun.
"We say that he waited and waited, and he had with him a gun, concealed in a fairly unobtrusive black case, and he also had a balaclava," he said.
The prosecutor told jurors they had heard from a number of witnesses who said they saw a man matching Mr Cowan's description hanging around the hospital that afternoon.
He said the prison officer he is alleged to have pointed a gun at, Kim Lockwood, picked him out at an identification parade.
'Gun in boot'
He said Mr Cowan had agreed he bought the Ford Escort which is alleged to have been the getaway car, but denies being Mr Farndon's accomplice.
DNA from both men was found on the car's seats, and also on the neck of a milk bottle found in the vehicle, he said.
Mr Perrins said when police arrested them in Scotland, they found ammunition, instructions and a cleaning brush for the gun in the boot of the Escort, and a checklist Mr Cowan had prepared.
Francis McGrath, defending, told the jury the DNA evidence did not necessarily place his client at the scene.
He said the objects could have been moved elsewhere and that DNA could have been placed on an item by a third party.
And he said Miss Lockwood could have picked out Mr Cowan in an identification parade not because he was the gunman, but rather that she recognised him from the prison.
"If the identification by Miss Lockwood is, or may be, a mistake, that would mean Mr Cowan is not guilty," he said.
He said there was no evidence the list found in Scotland, which mentioned burning out a car and listed a number of "targets" in Cambridge, was written by Mr Cowan.
Judge Nicholas Hilliard QC said he would start his summing-up on Monday morning.