Suffolk escape: Man denies helping Andrew Farndon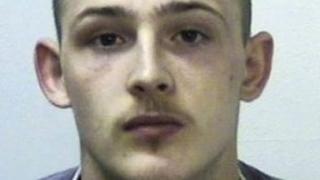 A man accused of helping his former prison mate escape custody in an armed ambush has told a court he was on a drunken hitch-hiking trip at the time.
Garry Cowan, 45, denies springing prisoner Andrew Farndon with the aid of a replica handgun outside West Suffolk Hospital in Bury St Edmunds in January.
Farndon was being taken to accident and emergency with a knife wound sustained at Highpoint jail in Stradishall.
Woolwich Crown Court heard the men "got on like a house on fire" in prison.
Farndon had been jailed for fracturing a man's skull in a hammer attack and Cowan had been sentenced for robbery.
'Paralytic drunk'
Cowan, originally from St Andrews, in Fife, Scotland, was released on 10 January and was offered accommodation in Scotland by a friend, Alan Hornall.
Hitch-hiking up through England, Cowan told the court he stopped off at Manchester to visit the grave of his dead son before heading on to Blackpool and Newcastle.
He said: "I wasn't heading to any place especially, I was just heading to Scotland.
The defendant said he had been drunk when he got to Scotland on 26 January, the day after Farndon escaped.
After going to Mr Hornall's home in New Cumnock, East Ayrshire, and drinking a bottle of whisky, Cowan said he was surprised when Farndon turned up there some two hours later.
Defence lawyer Francis McGrath asked: "Was there any discussion about the escape?"
Cowan replied: "Andrew told me what he had done and I told him he was an effing idiot."
The trial continues.