Landmark House over budget, Suffolk County Council confirms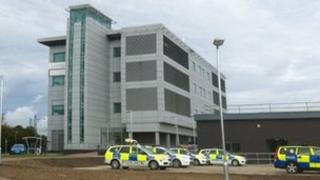 Suffolk County Council has admitted its move to the Landmark House office block in Ipswich is £3m over budget.
The Conservative-run council had refused to comment on the claim made by Liberal Democrat councillor Andrew Cann earlier in the week.
It has now released figures showing the move is over budget, saying extra work had been required at Landmark House.
But the council claims the overall move to merge offices with Suffolk Police will cost £6.4m less than expected.
The authority said its current figures showed the joint venture to transfer staff from five council buildings and the Ipswich town centre police station would cost £20.2m to complete, which is £6.4m less than first forecast.
Councillor Lisa Chambers said: "There is a slight overspend in terms of Landmark House, but what we need to do is look at the project as a whole and not just isolate Landmark House."
The council said the decision to scrap plans to buy and then refurbish its St Edmunds House office in Ipswich, and instead move staff to Landmark House, had saved £10.2m.
Part of this money has been spent on creating conference facilities and making repairs to Landmark House, which had been empty since being built in 2000, it said.
Mr Cann said the building, which is on the outskirts of town, was in the "wrong place" and its use comes at the "wrong time", as jobs are lost as part of budget cutbacks.
"The savings they claim to be making would have been made anyway, as buildings would have been vacated as they have fewer employees," Mr Cann said.
The council and police said they bought the building for just under a third of its £12m asking price in 2010.
They estimate the move will jointly save some £1m a year over the 30-year life of the building.
Staff started working at Landmark House in October.