Ipswich Northern Fringe housing development consultation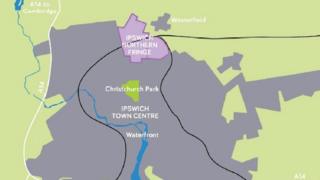 Campaigners say they want a public meeting to debate proposals to create up to 4,400 homes in Ipswich.
Ipswich Borough Council is expected to hold a public consultation about the Northern Fringe development early next year.
The council said it has three options about where to build a new secondary school and district centre for shops.
The Northern Fringe Protection Group said transport links to employment areas would have to improve.
The council's executive committee is discussing the proposals on Tuesday evening.
The proposed area for development covers 482 acres (195 hectares) north of Valley Road/ Colchester Road to Westerfield village, and between Henley Road in the west to Tuddenham Road in the east.
Rod Brooks, chairman of the Northern Fringe Protection Group, said: "We don't want it because jobs growth is going to be in east Ipswich, Martlesham, Felixstowe and Sizewell, and housing should be built at these employment areas.
'Garden suburb'
"However, there may be population growth and a need for affordable housing, so if it goes ahead, we want to see improvements in transport links to the A12 and A14 and facilities such as local schools and shops.
"The inclusion of a lot of green space and a country park is attractive - creating a 'garden suburb' rather than urban sprawl."
The group said it wanted a large public meeting for a debate to be part of any public consultation.
Ben Gummer, Conservative MP for Ipswich, said: "I'm concerned we're going to have a large identikit housing development which doesn't say anything new about Ipswich or anything exciting or aspirational about the town.
"They could go for an open competition and think more innovatively about transport."
An Ipswich Borough Council spokesman said: "The Northern Fringe is a major opportunity to deliver the new housing and community facilities that Ipswich must supply if it is to grow and maintain a vibrant and economically stable community.
"Once the report is agreed, the next stage is to go out to public consultation in the new year. There will also be public exhibitions and a public meeting."