Suffolk County Council's office move '£3m over budget'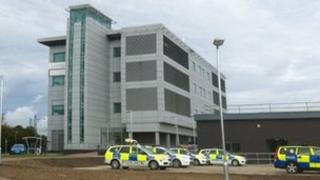 A local authority's move into a new office block in Ipswich is £3m over budget, opposition politicians claim.
Suffolk County Council and Suffolk Police moved some of their departments into Landmark House in October.
The Liberal Democrats on the council said it was more than £3m over its £14m budget, but the ruling Conservatives were not revealing the full details.
The Conservatives said the figures were under review and would be released once this procedure was finished.
Councillor Andrew Cann, the Liberal Democrat group's finance spokesman, said: "I have been told by various sources that it's in excess of £3m over budget, on what was supposed to be a £14m project, but the Tories won't let us see the numbers.
"They're being very secretive and, if you're going to save money, the best thing to do is to tell people about it."
'Driving down' costs
The council said moving its trading standards and some community services to Landmark House would save it about £500,000 a year, over a predicted 30 years of use.
Ipswich police station is being moved to the building, and the force said it would save a similar amount.
The building had been unoccupied since it was built in 2000 and the council and police said they bought it for just under a quarter of its £12m asking price.
Mark Bee, Conservative leader of the county council, said: "We've said all along that we've been driving down the costs of Landmark House.
"There have been budget issues with it, we are still reviewing them and that's why it would be wrong to comment on them now."
Councillor Sandy Martin, leader of the Labour group at the council, said: "The council is being incredibly cagey and if it was good news, they'd let people know straight away.
"I thought it was a bizarre move right from the start moving people to the edge of Ipswich, and the only justification was that it was going to save money."
A Suffolk Police spokesperson said: "Until the project is complete it is not practical to discuss final costs.
"By the end of the year we will be in a position to disclose this financial detail."