Suffolk prison officer feared she would be shot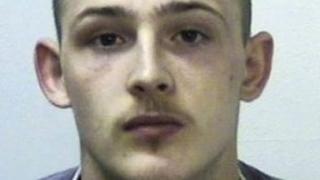 A prison officer feared she was about to be killed when a gunman demanded a prisoner in her custody be freed, Woolwich Crown court has heard.
Kim Lockwood said she had a gun held to her head at West Suffolk Hospital, where she was escorting Highpoint prisoner Andrew Farndon in January.
He was uncuffed and fled the scene.
Garry Cowan, 44, from Thamesmead, denies possessing a replica handgun with intent to cause fear of violence and assisting an offender to escape.
The court heard how Farndon, who had been jailed for grievous bodily harm for fracturing his victim's skull in a hammer attack, was taken to the hospital's accident and emergency ward after suffering a knife wound to his shoulder.
'Sorry miss'
Ms Lockwood told the jury she felt a gun being pressed against her head moments after stepping out of a taxi used to travel from the prison in Stradishall.
Giving evidence behind a screen, Ms Lockwood said: "As we got out of the car I could obviously feel what I realised was the gun at my head.
"I was looking at Mr Farndon. He started saying 'I'm sorry miss, let me go'.
"At first, that it was a training thing work had set up... but very quickly it went out of my head."
She said she alerted her colleague Chris Matson, who held the keys to the handcuffs but had remained in the car unaware of the events unfolding outside.
"The gunman said he had 10 seconds to get the cuffs off or he was going to shoot us," Ms Lockwood said.
"He (Mr Matson) was struggling to get the keys out because he was shaking at the same time."
Asked by the prosecution what she feared may happen, she said: "That I was going to die."
Although initially unable to provide police with a description, Ms Lockwood later picked out a man she believed was the gunman from photographs shown to her by officers, the court heard.
During cross-examination, defence lawyer Francis McGrath said: "Is it possible you recognised Mr Cowan ... and leapt to the conclusion he was the gunman?"
"No, not all," Ms Lockwood replied.
"I've got no doubt in my mind at all that the person I picked out was the gunman."
The trial continues.