Ipswich Town's Paul Taylor arrested over pub fight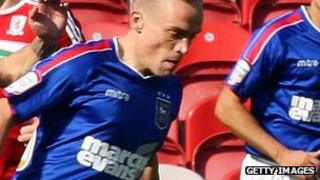 An Ipswich Town footballer has been arrested over an alleged assault on a member of staff at a town centre pub.
Paul Taylor, 25 was held on suspicion of causing grievous bodily harm, along with a 24-year-old woman from Liverpool.
They have been released on police bail until January.
Suffolk Police said a male member of staff of the Robert Ransome pub in Tower Street suffered injuries in an attack on 16 October.
Mr Taylor, a striker, has been out of the Ipswich Town squad since breaking a foot during the 2-0 defeat at home to Wolves on 19 September.
He played just three times since completing his move from Peterborough in August, but the club said he was expected to miss the rest of the season.
A statement from Ipswich Town said: "We are in communication with the police authorities over this matter but will be making no further comment at this stage."