Suffolk Community Healthcare: 66 frontline posts to go, says union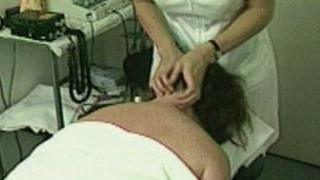 A union says 66 frontline NHS jobs will disappear at Suffolk's recently-privatised community heath services.
Serco took over Suffolk Community Healthcare and said there would be a net loss of 137 posts in total, but no compulsory redundancies.
The public sector union Unison said 66 of these posts included nurses and other health workers who deal directly with patients.
The union said Serco would not be able to maintain current levels of care.
Serco won a £140m three-year NHS contract to run Suffolk Community Healthcare and took over in October.
Its services include community hospitals in Aldeburgh, Felixstowe and Newmarket, community nursing and speech therapy.
'Encouraged to resign'
Serco said there would be a net loss of 137 full-time equivalent (FTE) posts across the whole of its community health operation in Suffolk.
Unison said of the 66 FTE frontline jobs going, community nursing posts would be cut from 210 to 179, specialist and district nursing posts from 65 to 56, physiotherapy posts from 50 to 42 and other health staff who deal with things such dressings would be reduced from 93 to 75.
Serco said it would not be making any compulsory redundancies among frontline clinical staff, but would offer a variety of redundancy packages, known as mutually agreed resignation schemes.
Tim Roberts, regional organiser for Unison, said: "People are very worried and they do not see it's going to be possible to deliver the same kind of services with these job losses - it's completely untenable.
"[Nurses are saying] convince us that it's going to be possible or at least be honest with the people of Suffolk and say that services are going to deteriorate.
"They're not making them redundant, but they're offering them financial compensation to leave by encouraging them to resign."
Serco said it was consulting with staff.
Paul Forden, managing director of Serco's clinical healthcare business, said: "We will do everything we can to minimise the number of non-clinical staff affected by the changes.
"We appreciate staff will be anxious about these proposed changes and we will also be liaising closely with the trade unions to ensure the redesigned service will provide the best possible care for our patients."