Hadleigh fuel tankers blaze treated as suspicious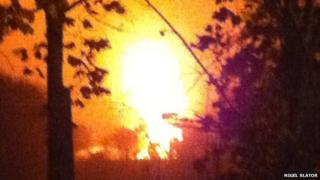 A fire that destroyed three fuel tankers and threatened other buildings on an industrial estate in Suffolk is being treated as suspicious by police.
Ten crews were called to Ukay Fuels in Lady Lane, Hadleigh, on Friday evening.
Eyewitnesses reported hearing explosions but there were no reports of injuries and the fire is now out.
Fire and crime scene investigators have been at the scene to try to determine the cause of the blaze. Police have appealed for information.
"If you were in the area during the afternoon or early evening on Friday or if you know anyone who came home smelling of fuel or have any information about who started the fire please call Suffolk Police," a spokesman said.
Cordon lifted
About 40 firefighters worked throughout Friday evening to prevent the fire spreading across the site.
Police said the tankers contained a total of 35,750 litres of kerosene, gas oil and diesel.
Residents in the area were warned to stay indoors and keep doors and windows closed.
A 300 metre (984ft) cordon was set up around the blaze and the A1071 was closed to traffic.
A county council spokesman said: "Firefighters worked throughout the evening to prevent the fire spreading from three mobile fuel tankers to other parts of the industrial estate."
Police reopened the A1071 and the cordon was lifted just before midnight but the emergency services remained during the early hours to ensure the area was secure.