Ireneusz Melaniuk jailed for life for Peter Avis murder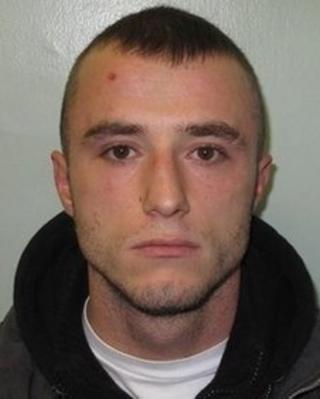 A man who beat and stabbed a man to death in Suffolk while on the run from a Polish prison will spend a minimum of 26 years in jail.
Ireneusz Melaniuk, 28, was given a life sentence at Ipswich Crown Court after pleading guilty to the murder of Bury St Edmunds jeweller Peter Avis, 66.
Mr Avis was killed at his flat above his Collis & Son shop during a botched burglary in January.
Melaniuk also admitted burglary.
At the time of the killing, Melaniuk was wanted in Poland after absconding from a prison term for a robbery offence.
Passing sentence, Judge John Devaux told him: "When you murdered Peter Avis you should have been in Poland, not at large in this country."
'Powerless'
Mr Avis had been stabbed 13 times and beaten with a glass ashtray.
The judge said: "You murdered a particularly vulnerable man, in his home and using a knife which you had brought to the scene.
"Your victim was powerless and unable to defend himself yet you repeatedly wounded him."
The court heard that Melaniuk was not on a European "watch list" meaning he was able to enter the UK undetected, raising questions over how European countries share information.
British and Polish authorities must now decide which country he will serve his sentence in.
Prosecutor Peter Gair told the court that Melaniuk and his accomplices carefully planned the raid, knowing that there were valuable items in the shop and that Mr Avis was vulnerable.
When he was arrested, Melaniuk told police that he did not know anybody was inside the property and panicked when Mr Avis disturbed him.
Asked why he had the knife used in the attack, he told officers: "I was in the habit of carrying a knife because I used to do this in Poland."
The total value of the goods stolen could not be calculated because much of the jewellery could not be traced.
After the raid, Melaniuk was caught on CCTV at the Opera House nightclub in London giving out jewellery to women.
Police found jewellery worth £5,000 which had not been disposed of.
Melaniuk was identified through the DNA database.
He had by then returned to Poland but was traced through friends who were in contact with him by phone and on Facebook.
Adam Butler, mitigating, said that Melaniuk's parents were both alcoholics and he had turned to a life of crime.
The court earlier heard how Kamel Kita, 21, Pawel Pacian, 35, Pawel Borowiecki, 31, and Aleksandra Karpiuk, 27, all played a part in either planning the burglary or helping Melaniuk escape.
They were all jailed at a previous hearing.