Conservative Tim Passmore wins Suffolk PCC election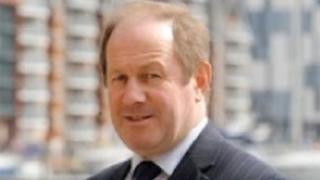 Conservative Tim Passmore has been chosen as Suffolk's first police and crime commissioner (PCC).
He beat Labour's Jane Basham after second preference votes were counted as neither managed to get 50% of the votes.
Directly elected PCCs are replacing police authorities and will be responsible for controlling budgets and setting police priorities.
Turnout in the county was 16.01%. The results were announced in Martlesham.
Mr Passmore said he was "honoured and privileged" to have won an "historic and important election".
"Together we will make Suffolk even safer and better and continue to make it a wonderful county in England," he said.
'Extremely poor'
Mr Passmore said the government needed to take responsibility for the "disappointing" turnout.
"Holding elections in November is not a sensible time for any candidate," he said.
"I don't think the publicity regarding what the role of police and crime commissioner is about was anywhere near adequate - in fact I think it was extremely poor."
Jane Basham said she was "disappointed" to have missed out, after leading in the first preference vote.
But she said this showed that "Labour is back in Suffolk".
"I pass my huge congratulations to my opponent, and my commiserations to [Independent] David Cocks," she said.