Suffolk Police officers quit ahead of gross misconduct hearings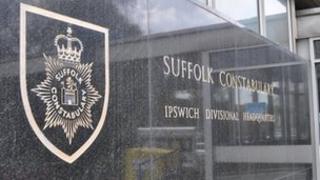 Eight Suffolk Police officers resigned from their posts last year ahead of gross misconduct investigations, it has been revealed.
The resignations came before hearings over alleged offences including possessing indecent images of children, assault, theft and fraud.
A spokesman said it was disappointing when officers left amid allegations.
The details were released following a Freedom of Information request by the Ipswich Star.
'Inappropriate message'
Between 2009 and 2012, 16 officers were found guilty of misconduct for a range of offences including sending an inappropriate picture message to a colleague, the manner of driving a police vehicle and failing to deal with an alleged theft.
Action taken included written warnings and advice from management.
With regards to the resignations during the 2011-12 financial year, a force spokesman said it was "always extremely disappointing and sad" when officers left due to misconduct allegations.
They added: "Where an officer is suspected of committing a criminal offence the case is determined using the normal criminal justice processes with evidence presented to the Crown Prosecution Service to seek advice as to whether any further action would be appropriate.
"In cases of gross misconduct, and in cases where it is considered inappropriate for the employees involved in misconduct to remain in their normal place of work, consideration will be given to precautionary suspension, or redeployment elsewhere."