Sizewell C nuclear power station consultation to begin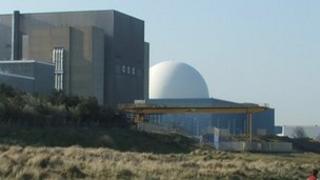 EDF Energy has urged people who want to "help shape" the development of a new nuclear power station in Suffolk to take part in its consultation.
The initial proposals for its Sizewell C power station will be on display from 21 November until February in Leiston and at 12 public exhibitions nearby.
EDF said it was "very important" to get the feedback of local people.
But Charles Barnett, chairman of the Shutdown Sizewell Campaign, said he doubted EDF would listen to concerns.
Mr Barnett, who lives in Dunwich, said the consultation period would be a closed book and would not look at the questions local people wanted answering.
"Do we want it? Can't be discussed," he said.
"Is there another way of doing it through the renewables? Can't be discussed. What's going to happen to the nuclear waste which will be stored on site in excess of 150 years? Can't be discussed."
Mr Barnett said only the "peripheral" issues such as traffic and roadworks would be discussed.
EDF said this was not the case and that "all aspects of the project" would be up for debate.
However, communications manager Tom McGarry said the topic of whether the power station should be built had been covered by a government consultation.
This resulted in Sizewell being named as one of eight sites deemed suitable for new power stations by 2025.
"The principle has been established," Mr McGarry said. "What we're consulting on are the details about how it could be delivered.
"It's very important we get the feedback of local people so that they can get the most of the benefits of Sizewell C and we can do what we can to limit the negative impacts."