Ipswich Royal Mail centre review leads to job fears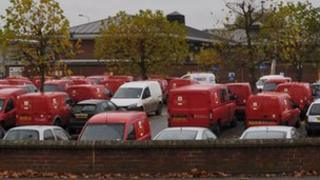 Postal workers fear a review of the Ipswich processing centre could mean the loss of 230 jobs.
Royal Mail is beginning a six-month consultation on the future of the office on Commercial Road.
The Communication Workers Union (CWU) said reviews usually end in the transfer of work to other centres.
Royal Mail has already announced that 13 mail centres will close by 2015 including Cambridge, where work will be moved to Peterborough and Chelmsford.
A CWU spokeswoman said staff in Ipswich are "concerned".
"Unfortunately, there have been a number of mail centre closures in recent years including the announcement last week that Gloucester, Shrewsbury and Cambridge are set for closure," she said.
'Changing market'
"It looks likely that Ipswich will be another one.
"We will look at the Royal Mail's business case for closure and we will be trying to ensure all options are fully examined before a final decision is taken."
The Royal Mail said it is part of a wider, continuing review of its UK mail centres and Portsmouth's office is also under review.
The company said it is being carried out in response to a drop in the number of items it delivers nationally, from 84 million a day in 2006 to 58 million a day now.
Ricky McAulay, the company's process and collection director for the east of England, said: "Change is absolutely essential to... ensure we operate efficiently and provide a great quality of service in a smaller and radically changing market.
"Any change to our mail centre in Ipswich will, unfortunately, impact on some colleagues.
"We will be working very closely with the CWU and Unite CMA to support our people during what will, inevitably, be a period of uncertainty."
The Ipswich mail centre processes items which are then passed on to the 16 delivery offices for the IP postcode area.
The Royal Mail said a final decision will be made in May 2013.