Walking bus Children in Need record by Newmarket schools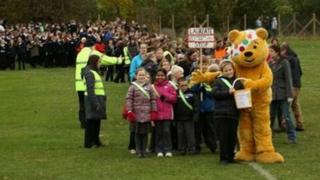 A group of Suffolk schools is claiming to have broken a world record for forming a 'walking bus'.
Seven primary schools, a secondary school and two playgroups in Newmarket formed a procession of 1,904 walkers and raised more than £2,000 for BBC Children in Need.
The previous record was set in 2006 in Ashby-de-la-Zouch, Leicestershire when local schools had 1,346 walkers.
The new record still has to be verified by Guinness World Records.
The Newmarket walk was organised by Olive Millington, the head teacher at Laureate Community Primary School.
"It was a really amazing sight to see all these children walking together and a fantastic achievement which shows the schools of Newmarket can work together," she said.
119,000 record
"We do try and encourage children to walk to school for health and fitness reasons and for the environment.
"We also have a 'walk to school' week as well to show that it can be fun."
Children from Laureate, Houldsworth Valley, Ditton Lodge, All Saints, St Louis, Exning and Paddock primaries walked to Newmarket College where they joined up with secondary school pupils and children from Colour Box and Stepping Stones play schools to walk around the playing field.
Fifty stewards, including volunteers from the US Air Force at Mildenhall and Lakenheath, helped out for the 1.2km (0.7 mile) challenge.
The schools said they still had to get the record officially verified by Guinness, but the records organisation had set-out everything they needed to do beforehand to break the 'single location' record.
A separate record for a 'multiple location walking bus' was set in 2009 by the safety charity Brake.
It organised 119,697 people to take part from 403 schools across the UK.