Wife feared Suffolk hare-coursers had killed husband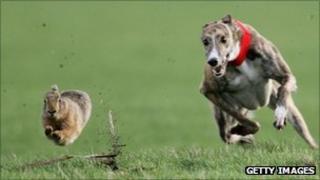 A woman who watched her husband being knocked down by a car as suspected hare-coursers fled a field in Suffolk says she thought he had been killed.
Police believe the man, who is in his 60s and wants to remain anonymous, was deliberately hit with the car on Sunday morning as the offenders driving a Subaru sped away from land in Hitcham.
The woman said: "All I could see was him lying in the road and I was just thinking, 'they've killed him'."
Nobody has yet been arrested.
The man was taken to West Suffolk Hospital for checks on his spine and a cut hand, but was later released.
'Aimed for me'
He had gone to his field with his son after receiving a phone call alerting him to potential hare-coursing, an illegal sport where dogs chase hares.
The man said he blocked the "three or four" people in his field, using a forklift truck at one exit and its load at the other.
The group, he said, lifted the load and sped towards him as they reached the road.
"I was on the side, and they just seemed to aim for me," he said. "I ended up on the bonnet and on the ground."
His wife said she was next in the car's path.
"The car was suddenly coming straight for me so I jumped towards the ditch and they sped past me," she said. "It all happened so quickly."
On Monday, the man said he was feeling ok physically but was still in shock.
"Looking back I might have been a bit silly by blocking them in and exposing my wife and my son to the danger," he said.
Suffolk Police says it is looking for a blue 'T' registration Subaru, which may be "extensively damaged".