Tributes to Suffolk police officer killed 150 years ago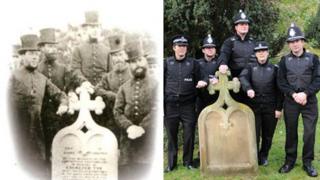 Tributes are being paid to a Suffolk police officer who was murdered while on duty 150 years ago.
PC Ebenezer Tye was killed in November 1862 as he tried to stop a burglary on Chediston Street in Halesworth.
His killer, John Ducker, was the last person to be publicly hanged in Suffolk, police said.
Officers who serve the area today have gathered at his grave and an exhibition has been organised by Halesworth and District Museum to honour Mr Tye.
The 24-year-old officer had been trailing Ducker, who had been linked to raids on local properties.
Mr Tye confronted him when he saw he was carrying a suspicious-looking bundle.
'Beaten with a cudgel'
There was a scuffle, police said, and then a chase.
Mr Tye's body was later found in the river behind Chediston Street. He had been beaten with a cudgel.
Ducker was found guilty of his murder and sentenced to death via hanging, which is said to have been carried out in front of 5,000 people outside County Hall in Ipswich on 14 April 1863.
He confessed to the crime on the gallows, police said.
PC Chris Sadler, of Southwold and Halesworth Safer Neighbourhood Team, said: "This case shows policing has always been a dangerous profession and that officers put their lives on the line even in comparatively rural areas to protect local communities and catch criminals.
"We also think that while many things have changed, the basics of policing - fighting crime, keeping the roads safe and the problems of young men drinking a bit too much on a Friday night - will have been largely the same 150 years ago as it is today."
Mr Tye was buried at Halesworth cemetery.
Halesworth and District Museum will have an exhibition on policing in Victorian Halesworth from 27 November to 15 December.