Trident Energy in wave power tests after prototype sank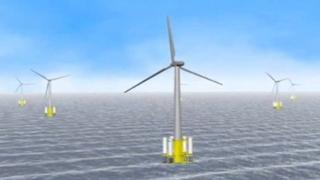 An energy company is to have a second attempt at creating electricity from wave power, after its first prototype sank on the way to testing.
Trident Energy has been building a model in Lowestoft, Suffolk, and will test its effectiveness in the spring.
If successful, it said the wave generator pods could be added to the base of wind turbines.
Steve Packard, Trident CEO, said: "A great advantage of wave power is that waves are a lot less fickle than wind."
The company's first prototype sank three years ago before it could be tested at sea.
£180,000 grant
This time it will be tested on a deep water pier in Scotland.
The electricity is produced by a generator which sits in a pod floating on the water.
Mr Packard, whose company has received a £180,000 grant from the Low Carbon Innovation Fund, said the generators could be used at wind farms including the East Anglia Array - scheduled to be built off the east coast of England from 2015.
"With 1,200 turbines, we can produce another gigawatt of energy from that same wind farm, which is enough to power one million homes," he claimed.