PCC election: Suffolk candidates debate morale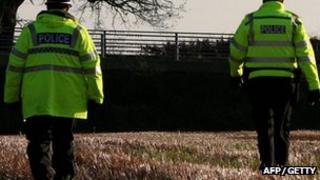 The candidates for the post of Suffolk's police and crime commissioner (PCC) have been responding to claims police morale is at an all-time low.
Callers to BBC Radio Suffolk highlighted the problem of police morale and the candidates responded to the issue during a debate on Thursday.
The Police Federation in Suffolk, which represents rank-and-file officers, later agreed there was a problem with morale and it was connected to cuts.
The Suffolk force had agreed to find savings of 20% to its annual budget of £130m over four years.
The number of uniformed officers had dropped below 1,200 from 1,300.
'Defend numbers'
Jane Basham, for Labour, said: "We are standing against the cuts and I pledged that I would meet the people on the ground because we need to have that open dialogue.
"I'm deeply worried about morale and its impact on sickness levels and it's something we need to look at."
David Cocks, an Independent candidate, said: "The police have taken more than they should have done in terms of the cuts which are going through.
"We need to defend police numbers, and if that means increasing the police precept, then I would do that."
Bill Mountford, UKIP, said: "One of the things I intend to do is meet with officers of all ranks and it may be a useful channel so that messages that don't get through from the lower ranks to the chief constable can actually come through me.
"I would not like to see any further pay cuts."
'Raise precepts'
Tim Passmore, Conservative, said: "This issue about morale is absolutely vital because if we don't have a happy, contented workforce then people don't work so effectively.
"I've met with the Police Federation and have said they have to have confidence in the commissioner and that he is on their side."
Matt Gould, chairman of the federation's Suffolk branch, agreed morale had "never been lower" and he was looking forward to the new PCC being able to help.
"If you're used to being able to provide a certain level of service and, as a result of cuts, have to offer a different level of service, that's not going to be very good for the workers," he said.
"We've heard that 95% of officers nationally feel they're getting no support from their political masters in government, so visible support from the local PCC would be very much welcomed.
"The PCC will be in a position to raise local precepts, so they can increase the amount of money available to the constabulary to employ people."
The Suffolk Police Authority, which is being replaced by a PCC, agreed to increase the police precept part of the council tax by 3.75% for 2012-13 to raise an extra £1.55m.
The PCC election takes place on Thursday 15 November and the four candidates above are standing in Suffolk.