Kestrel stuck at sea saved by lift on yacht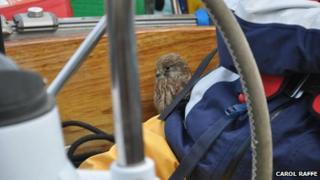 A kestrel stuck 25 miles off the Suffolk coast has saved itself by catching a lift on a yacht.
Carol Raffe, who lives near Ipswich, was sailing in the North Sea, close to the Greater Gabbard wind farm, when the bird landed on her shoulder.
The young kestrel spent four and a half hours on the boat before it flew to the safety of land by the River Deben.
Mrs Raffe said: "We watched her make her way to Ramsholt Church - perhaps for a quick prayer of thanksgiving."
She said she was "amazed" when she felt a tapping on her shoulder and turned to see the bird.
"My shock must have made it decide to move off and it then settled amongst the coiled main sheet by my side," she said.
'Seasoned sailor'
Mrs Raffe and her husband, who were returning from a holiday in Holland, offered the bird some food but this frightened the kestrel and made it take flight.
"We were dismayed to see her land on the water in the wake of the boat, especially as she would have no natural swimming skills to save herself," Mrs Raffe said.
"However she made a huge effort to recover and caught up with us again, this time landing on my husband's shoulder before finding a good sheltered spot in the lee of the wind in the cockpit.
"We moved very carefully after that and watched as she slept, usually with one eye on us, and recovered her strength."
Mrs Raffe said the kestrel moved to the winch and managed to keep her balance despite the rough sea - acting like a "seasoned sailor".
"For the last hour of the journey, and some four and a half hours since her first arrival, she moved about confidently in the shelter of the spray hood and didn't appear to mind us moving about the boat too.
"As we entered the quiet of the River Deben in the late evening, she finally decided it was safe to move off and call an end to her seafaring adventures."
Julian Roughton, chief executive of Suffolk Wildlife Trust, said it was "almost certain" that the kestrel had travelled from the continent to take advantage of Britain's milder winters.
"There is every chance its life was saved by landing on the boat," Mr Roughton said.
"At the end of October thousands of birds died in the North Sea as they became confused and went off course in foggy conditions.
"Robins were seen dropping into the sea and yachtsmen reported hundreds of passerine birds clinging to boats."