Ash dieback: Fears realised for ancient Arger Fen wood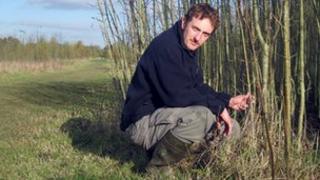 Staff managing an ancient Suffolk woodland suspected for weeks that something was wrong.
Their fears have now been realised with confirmation that Arger Fen, near Assington, has joined more than 110 sites with confirmed cases of chalara ash dieback.
A number of saplings are infected at the 118-acre site some of whose trees are up to 300 years old.
Suffolk Wildlife Trust, which manages the site, says it needs clear advice from experts as to the best way forward and it needs government support.
Will Cranstoun, who is responsible for 12 of the wildlife trust's reserves, fears that preventing the spread of the disease will be impossible.
"This site is almost unique in Suffolk as it has a large acre of naturally regenerating ash," he said.
"It is that area which is infected and, if it is wiped out, it will fundamentally change this landscape for hundreds of years to come.
"If it spreads to some of the older ash, we will be losing trees with real history with some of them dating back as much as 300 years."
At the moment he faces a waiting game.
There is currently no single theory on how to deal with the outbreak.
'Evolution in action'
Some advocate burning infected areas but others argue the wind-borne nature of the spores would render this futile and simply result in fresh infections.
He said: "We need to come up with a co-ordinated response - we don't want to start down one path and then find out we're doing more harm than good.
"Resources will also be key. There is a small woodland team working to manage six woodland sites along with a team of volunteers.
"We need to know if there will be money from Government to allow us to tackle this properly."
He added that at present infected ash are around the fringes of an area of saplings as they act as a natural windbreak.
"The fear is that as each layer dies, the boundary is pushed further back, wiping out thousands of young ash which are most susceptible," he added.
"All we can hope to do is contain the spread as much as possible and hope that some trees develop a natural resistance and that ash re-emerge for future generations."
The main concern is the impact the disease will have on bio-diversity.
"It will never be the case that there are no trees in this area," Mr Cranstoun said.
"Where one tree dies, another will take its place. That may be oak, field maple or birch.
"The concern is we lose the diversity and integrity of the area and the knock-on effect that will have on the ecosystem.
"We are surrounded by an Area of Outstanding Natural Beauty and, for example, there are types of lichen which rely on ash.
"In a largely agricultural area, woodland provides real character to the landscape and that is what is under threat."
'Survival of the fittest'
The trust is keen to encourage the public to continue to visit the site.
Mr Cranstoun added: "These woodlands are here to be enjoyed.
"People can take sensible precautions such as cleaning their boots on each visit, but they shouldn't stay away."
So far the disease as been found at sites in Sussex, Berkshire, Lincolnshire, Yorkshire, Bedfordshire, Northumberland, Norfolk, Suffolk, Kent and Essex.
For Mr Cranstoun the spread of the disease is inevitable.
"In some ways we're watching evolution in action. It will be a case of survival of the fittest," he said.
"But it is sad and it will dramatically change historic landscapes for ever."