Debbie Wiseman battles council over 200-year-old footpath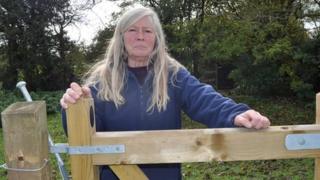 A woman in a Suffolk village says she will continue to stop people walking through her front garden, despite the council saying it is part of a 200-year-old public footpath.
Debbie Wiseman became involved in a war of words with Suffolk County Council after the path in Westerfield was added to the rights of way map in January.
Mrs Wiseman says she was not consulted and disputes the history of the path.
The council said it was "satisfied that the path exists in law".
Mrs Wiseman's home is on Lower Road at one end of the Fonnereau Way walk, which stretches 3.5m (5.63km) from Ipswich Railway Station.
A driveway, which has Mrs Wiseman's home on one side, a field for her two horses on the other, and a small gated section of grass are at the centre of the dispute.
Mrs Wiseman said she bought the house in 2009 and that the council failed to fulfil its statutory duty by making her aware of its plans to confirm the path as a public footpath.
'Big infringement'
This, she said, denied her the opportunity to present evidence which showed the path had not been regularly used by walkers and therefore should not be deemed a public route.
Mrs Wiseman said that since the footpath was made official, rocks had been thrown at her animals, her car aerial had been snapped off and one walker stopped to take photos of her daughter in a bikini.
"It's a big infringement - if I come out to my stable, or if I'm strimming, I have to lock my front door, in my own garden," she said.
"The council have even said my chickens are an infringement because they are on a public path."
Suffolk County Council said it believes its decision, made with the advice of the Planning Inspectorate and rambler groups, was legal but would examine any fresh evidence presented by Mrs Wiseman.
The council had threatened legal action if Mrs Wiseman failed to make the path, which includes three gates, accessible to the public.
But Mrs Wiseman said she would continue to "politely" ask walkers to stop using the path.
Geoff Knights, from the Ipswich and District Ramblers, said he "had sympathy" with Mrs Wiseman but believed the footpath should stay.
"We provided evidence that this route had been used by many people since 1935 - I provided evidence from at least 30 people who have used it.
"The fact that the land is private doesn't mean there isn't a public right of way across it."