Royal Anglian Regiment homecoming parade in Ipswich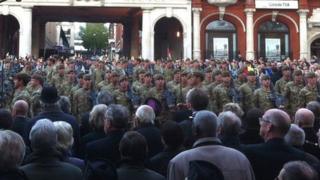 Hundreds of people went to Ipswich town centre to welcome 250 Royal Anglian troops back from Afghanistan.
A homecoming parade took place on Westgate Street and the Cornhill where members of the Royal British Legion raised their standards.
It marked the return to the UK of soldiers who have finished a six-month tour in Helmand province.
The regiment said troops had found 150 improvised explosive devices (IEDs) and 100kg of other explosives in that time.
They also found 340kg of raw and processed heroin.
Sixteen members of regiment have lost their lives in Afghanistan since the conflict began in 2001.
'Dramatic' progress
Lt Col Mick Aston, commanding officer of 1 Royal Anglians, said: "Our progress has been dramatic and we've handed over more than half of the Nad-e Ali district to the Afghan security forces where they now take the lead in security.
"What that means on the ground is that there is greater freedom of movement for the population, which means greater trade and greater access to government services, which is what every person in every society wants.
"We couldn't do what we do without the support we get from our home counties."
Robin Vickery, chairman of the Ipswich and District Royal British Legion, said: "Veterans enjoy supporting it and a lot of them have been through similar circumstances themselves.
"The Royal British Legion does a lot of work with the dependants of serving personnel and it's a big part of our work helping those families along."
Lt Adam Peters, from Needham Market, said the homecoming parade had a "fantastic turnout".
"I don't think you realise how much support you have. [The tour] can be very challenging but also very rewarding and you do notice how much the local population in Afghanistan appreciate what you're doing."
Pte Aaron McLure was killed in Afghanistan in 2007 and his mother Lorraine was at the parade.
"I'm feeling really proud and honoured to be here and stand with 'The Vikings' [the nickname of the 1st battalion] and welcome them home," she said.
"That was Aaron's second family and they've now become part of my family as well."
The Royal Anglian Regiment serves as the county regiment for Bedfordshire, Cambridgeshire, Essex, Hertfordshire, Lincolnshire, Leicestershire, Northamptonshire, Norfolk, Rutland and Suffolk.