Ipswich shop manager blasts Halloween stun gun 'cowards'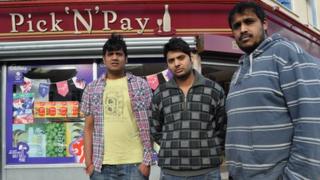 A shopkeeper who was shot with a stun gun in an attempted robbery has called his attackers "cowards".
Prashant Shah, manager of the Pick 'N' Pay convenience store in Ipswich, Suffolk, said four men demanded money in Wednesday night's attack.
They were carrying a baseball bat and hit Mr Shah with a stun gun, but left empty handed.
"They looked as if they thought they were someone big, but they were no one," Mr Shah said.
The attack happened outside the shop on Queens Way at about 22:35 GMT as three staff members were closing for the night.
The offenders are said to be in their teens and wore hooded tops.
'Messing around'
Three were disguised by scarves and masks, including one of a smiling face. One, whose face was visible, was described as of "Asian appearance".
Mr Shah said he thought the attackers were just "messing around" because it was Halloween.
"The stun gun felt more like tickling at first - until it hit my arm and hurt a little bit," he said.
"They seemed very immature and were hitting us like they were attacking rats - stepping away as they did it."
The attackers fled towards Shackleton Road before gaining entry to the shop.
The staff members were treated for minor injuries.
Suffolk Police said it was examining CCTV footage and collecting forensic evidence but would like to hear from witnesses.