Tesco plan to close 'iconic' Lowestoft pub criticised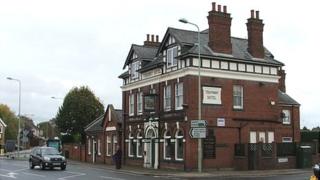 Supermarket chain Tesco is to take over a Suffolk pub and turn it into a convenience store.
But the move to close the Tramway Hotel at Pakefield has angered some locals who do not want to lose the pub on London Road in Lowestoft.
Tesco will apply to Waveney District Council for permission to alter the pub frontage and build an extension.
Terry Hunter, who manages the pub, said he had been there for 15 years and it would be "a sad day" if the pub shut.
"I'm just a number and it won't be my decision," he said.
Village 'core'
"We are surviving, but it's getting harder following the smoking ban, economic slump and changing habits.
"It would be ironic if Tesco took over the site, because people can't afford to go out to pubs anymore and they're staying in and buying cheaper alcohol from the supermarkets."
Paul Hobbs, chairman of the Promoting Pakefield Group, said: "It is a shock to people and we wonder just what public consultation has been going on and I challenge Tesco to a public meeting.
"At certain times of the year it is very busy, it's been there for 100 years and it's a core part of Pakefield village."
Matt Hill, from Tesco, said their plans would "secure the future of this iconic local building" and it was the company's aim to maintain "the Tramway's role in the community".
Tesco said it hoped to have the store open by next summer and it would create 20 full and part-time jobs.